"Life at Freedom Ranch, where hearts and souls

run free"
Freedom Ranch is situated on 22 acres in the Pacific Northwest, where you can find a mix of forest, green meadows, rolling pastures and featuring a meandering creek through this serene sanctuary, ending in a picturesque pond.at the edge of the property.
This Sanctuary sprang from the tender hearts of two ladies with a passion for discarded animals.
We invite you to come alongside and help support the care of these forgotten animals.
Their limited financial resources didn't stop them from pursuing their dream to create Freedom Ranch.

Up until now, all the costs of caring for these animals have come out of their own pockets...

You can change that!
Please Consider a tax deductible, monthly, renewable donation.
Any amount helps. Just click the "Donate" button in the upper right hand corner of this page.
And, Thanks for stopping by.
ABOUT
We are a non profit organization
---
OUR MISSION
We provide a lifetime home in the country for old, sick, abandoned and abused animals. We help veterans, and people who may need a helping hand.
OUR COMMITMENT
This is the final home these animals will ever need. We don't sell them or place them in another home. This is a place where these unfortunate and forgotten animals can come and live out the rest of their natural lives in a loving and caring environment. We provide for all of their needs; physically, medically and most importantly, emotionally.
OUR PASSION
Is for all animals, but especially those who are hurting, abandoned or abused. We invite you to come alongside on this challenging, rewarding and amazing journey. Please consider donating today. Every little bit helps!
Meet Lucy
Lucy has an appointment at the doctor for this week. She will be getting a couple of teeth pulled which has caused a severe infection in her already weakened body.
Thanks to a generous donation from an angel named Lisa, we are able to make this happen for Lucy.
Sky Blue
Here's an update on Sky Blue.
She received some much needed additional meds from her doctor and they appear to be helping. Her temperature is down to normal and her breathing is not as labored. She is more active and has a little more energy. She does have fluid and some infection around her lungs. Thank you so much for your support and prayers. It means so much to all of us!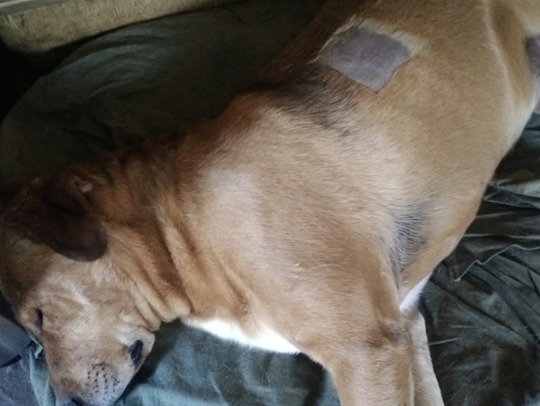 "This non-profit is being supported by two amazing women. who work with a very meager budget. Some funds come from donations that help them minister to 46 dogs, 4 cats, 2 horses, and one pot-bellied pig. Most of the cost of caring for these animals come from their personal income. Donations may be mailed to: Paws-4-Life Sanctuary, P.O. Box 252, Kettle Falls, WA 99141. Your much-needed donation is fully tax deductible."
Donald Hunt Dec 3, 2018
"This is an amazing place with unlimited love for the elderly and I'll dogs.....the gals that run it do so on a very limited income. They are a no kill sanctuary where the dogs (and pig and horse) can live out their days being loved, played with and groomed, in a regular "home" environment as opposed to being caged or kenneled. Vet bills can pile up...as does the feed bill! Any donations or help of any kind would be so much appreciated!!"
Lisanna Knopp-Like Aug 20, 2019
We would love to hear from you. If you have a question, comment, suggestion or perhaps words of encouragement, please take the time to communicate with us.
We will get back to you as soon as possible.